Old Storage Shed Tear Down & Removal
Serving Salem, Keizer, Monmouth, Woodburn, Molalla, Canby, Wilsonville, and Newberg Oregon.
Mike & Dad's Hauling offers old shed removal services at a very affordable price to Salem Oregon area residents. With our junk shed tear down and removal service, all you need to do is let us know what (if anything) you would like to keep on the inside and we'll do the rest.
We'll clean out the contents of the shed, then dismantle it piece by piece and haul it away. We'll even clean up after ourselves, leaving the area where the shed once stood clean, raked and ready for your new shed, or whatever you would like to do with that area.

Do It Yourself Junk Shed Removal – VS – Professional Shed Demolition
Unfortunately, here in the wet environment of the Northwest, garden and storage sheds will eventually succumb to the elements, breaking down, and becoming an unsightly eyesore on your property. Many people can remove a shed themselves, but for those who don't have time, the resources or the knowledge to safely dismantle a shed (without getting hurt) hiring a professional shed demolition and removal company is the safest bet.
Old sheds can become home to many insects and rodents such as: hornets, wasps, mice, rats, raccoons, opossums and more. Whether these inspects and rodents live inside, or under the structure, do it yourselfers will need to be prepared to encounter these insects and/or rodents, and deal with them in a safe manner.
If you decide to attempt the demolition yourself, a good understanding of how the structure is put together, and help from able bodied friends or family can lessen the chances of injury when taking the structure apart. Quality tools, as well as safety gear such as heavy-duty leather gloves, hard hats, and safety glasses should not be overlooked.
Mike & Dad's is the Best Choice for Junk Removal!
Leave your information below and we'll call you back.
Free Professional Shed Removal Estimates
Professional shed demolition and removal is the best and safest choice for many homeowners in Salem Oregon. When you hire a professional shed removal company, especially one that is licensed & insured, you can sit back while professionals handle this sometimes-dangerous job for you.
Mike & Dad's Hauling is highly experienced with safely removing old sheds and outbuildings. We have been serving the Salem OR area for 30 years, and come equipped to handle any shed removal job. We offer free estimates in all of Salem and look forward to speaking with you about how we can provide you with excellent customer service.
Some of the Sheds & Out Buildings we remove:
Garden Sheds
Lean To Sheds
Storage Sheds
Gazebo's
Spa & Jacuzzi Covers
Outdoor BBQ & Kitchen Covers
RV & Boat Storage Houses
Temporary Sheds and Covers
Garbage Can Storage Sheds
Old School Bus Shelters
Old Dog Houses
and Much More!
Mike & Dad's Hauling only does small to medium sized sheds and outbuilding removals.
As with anything, we recycle as much as we can to lessen our customers carbon footprint on our environment.
Before and After Shed Removal Photos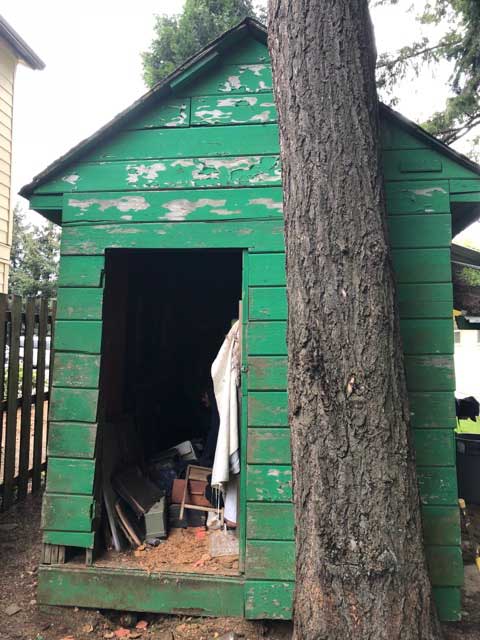 Shed Demolition & Removal Salem Oregon
For over 30 years, Mike & Dad's Hauling has provided quality, affordable and fast Shed Demolition & Removal services to the Salem OR area. Call today to get a free estimate. Junk Removal starting at $125.00
Back to Junk Removal
Old Storage Shed Tear Down & Removal in Salem OR
SERVING CLIENTS IN THE GREATER SALEM OR AREA:
Salem | Aumsville | Aurora | Canby | Estacada | Hubbard | Keizer | Molalla | Mt Angel | Albany
Newberg | Silverton | Stayton | Sublimity | Turner | West Salem | Wilsonville | Woodburn